Answer all your questions about CBD.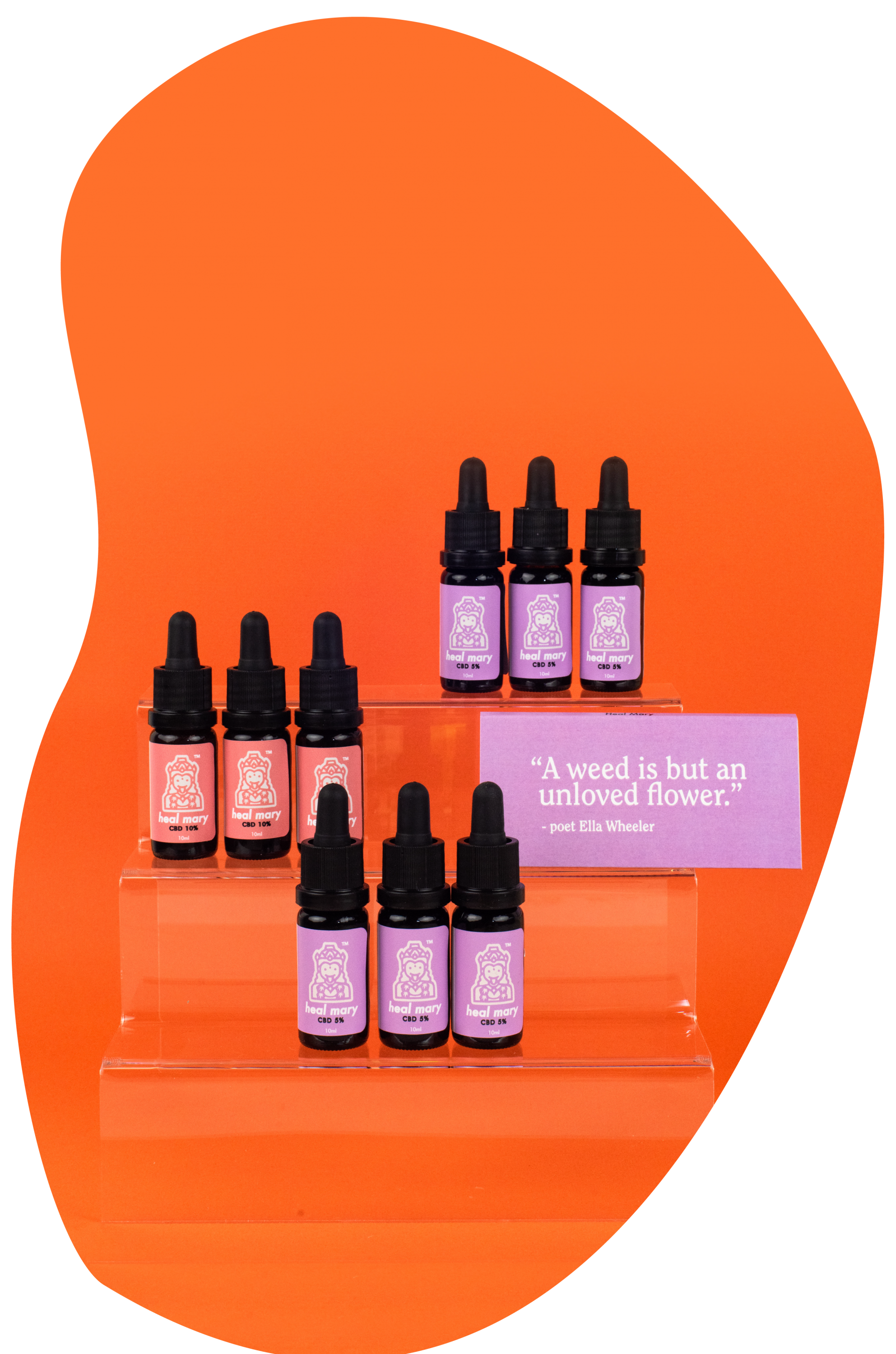 What is CBD?
Cannabidiol (CBD) one of the 113 cannabinoids in the cannabis plant. Everywhere in our body we have receptors for cannabinoids; our internal endocannabinoid system. Cannabinoids regulate our sleep, mood, mindstate and all kinds of body functions. In addition to 'locks' for endogenous substances (endogenous cannabinoids), we have a lot of locks for phytocannabinoids, the cannabinoids in plants. CBD is largely found in the hemp plant.
Are you getting high from CBD oil?
No, no worries. Our CBD oil contains only a negligible amount of THC (less than 0.01%). THC is the substance that makes cannabis psychoactive. High-quality CBD oil is made from cannabis strains that are low in THC and high in CBD. The weed that coffee shops sell comes from strains rich in THC.
What is the difference between full-spectrum and pure CBD isolate?
Heal Mary only sells broad and full spectrum hemp extracts. All cannabinoids in the hemp plant have their own benefits. Most only know THC, the cannabinoid that makes you high. We'd like you to get the whole alphabet of cannabinoids (except THC, of course), and not just CBD. Pure CBD, or an isolate, is filtered from all major cannabinoids and terpenes and therefore contains only CBD.
Full spectrum refers to the complete cannabinoid profile. This also applies to the broad spectrum. The difference is that this (our 10%) is slightly more filtered. The components of the plant that you do not need have been removed, but all cannabinoids have been preserved. This makes it more targeted, and the taste is neutral.
Your body has receptors for CBD, but also for CBN, CBG and another rainbow of cannabinoids. In addition, the naturally present terpenes and flavonoids are also stored in a broad and full-spectrum oil. 
What are terpenes?
Roses owe their wonderful scent to the same substance that makes Heal Mary magical: terpenes. Terpenes are nothing new for biologists. These hydrocarbonates are naturally present in many plants. They are widely used to make beauty products smell and feel good. In cannabis, terpenes play a more active role, determining the aroma, taste and effects of the specific strain.
Myrcene helps calm the body and is a perfect ally for sleep. The earthy, lemongrass-like aroma is typical. Tones of pinene and linalool flower can sharpen focus and lift mood. Some cannabis strains contain more than two hundred terpenes. Heal Mary CBD products are made from hemp varieties that are exceptionally high in terpenes that you can also find in ripe mango, chamomile, ylang ylang and cardamom. Limonene is also present in citrus fruits is linked to anti-anxiety and euphoria. Bisabolol is the time machine for your hair and makes troubled skin happy again. Terpenes work best in the context of a full spectrum. You call this the entourage effect.
What should I pay attention to when buying CBD oil?
Ask yourself the following questions:
Is the oil full spectrum, broad / wide spectrum or isolate?

Which extraction method was used?

What other ingredients does the product contain?

Has the oil been tested by an independent lab?

How much CBD is really in the bottle?
Don't be fooled. Sometimes a label will say, for example: 25% hemp paste 10%, 75% hemp seed oil. You might think that the CBD percentage is 10%. But that is not correct, pasta is only 25% of the content. In that case, there is only 2.5% CBD oil in the bottle.
What is Heal Mary?
Heal Mary CBD oil is a hemp extract with hemp seed (and soon also MCT (medium-chain triglycerides) oil. Free from pesticides, herbicides and solvents.
Heal Mary is an all-natural oil, obtained via supercritical CO2 extraction. This is the gold standard for producing top-notch cannabinoid extracts.
Our CBD oil is grown organically and on a small scale under the sun and processed in a certified factory.
We use cannabis strains that are high in CBD and are terpenes. We work with a small grower, so more love and attention for our divine plants.
Heal Mary was founded in Utrecht. Read more about the founder here.
What ingredients are in Heal Mary CBD?
Our CBD oil is obtained through CO2 extraction. This method ensures that none of the cannabinoids and terpenes are lost. Unlike extraction with hazardous solvents, the CO2 method is pure and free from harmful substances.
For Heal Mary CBD oil we use CBD paste. This is a thick substance of CBD concentrate. Pastes usually contain a higher concentration of CBD.
Heal Mary uses hemp seed oil as a carrier. Hemp seed oil is bursting with anti-oxidants, vitamins, minerals, chlorophyll and the rare gamma linolenic acid. In addition, the best source of essential omega-6 and omega-3 fatty acids.
Heal Mary CBD contains no additives, flavor additives, sweeteners or preservatives.
Has Heal Mary CBD been tested by an independent party?
Sure. To ensure quality and purity, every batch of our naturally grown hemp is tested by an independent lab.
How long can I do with a bottle of Heal Mary CBD?
About a month. It depends on your personal use.
Do you also have larger bottles?
We like to keep it simple. Our formula is strong and contains a lot of cannabinoids. Larger bottles often only contain more of the carrier (hemp seed oil, for example).
Why should I use Heal Mary CBD oil?
CBD can help restore the balance in your body.
Because of its health-promoting anti-inflammatory and calming properties, CBD is used to relieve all kinds of discomforts; from muscle pain, lack of focus, anxiety, headache, migraine, nausea, sleep problems, menstrual cramps, PMS, PMDD, stiff joints to a postnatal dip and during menopause.
Unfortunately, due to legislation in the Netherlands, we are not allowed to make statements about the effect of CBD oil.
What is the difference between 5%, 10% and 20%?
In this IGTV video Shinta explains the difference between the 5% and the 10%. The 20% or Dream Team is a combination of the 10% plus another 10% concentrated CBG. The difference between CBD and CBG is in the effects. Both are substances from the hemp plant, only mature cannabis contains a high degree of CBD and only 1% CBG. CBG is currently being (clinically) researched extensively and is very promising due to its super high anti-inflammatory properties. We recommend this variant for those who have sleep complaints related to stress, an irritable bowel, winter blues or depressive tendencies. CBG can also ensure clear dreams and positively influence your sleep cycles.
How do you use Heal Mary CBD oil?
Heal Mary CBD oil is versatile and can be used orally, sublingually (under the tongue), on the skin or even in your navel (really). Children and your cat can also use CBD, but prefer a lower percentage (2.5%). 
Do not take the CBD on an empty stomach. After eating, your body absorbs the oil better.

Fill the pipette with the desired amount of CBD by squeezing the rubber cap.

Drip the oil under the tongue, wait 60 seconds, then swallow. For example, the oil is absorbed by your cheek mucosa and not by the stomach and you absorb more.

By applying the oil under the tongue, your system absorbs it super fast. You can notice something within twenty minutes.
You can also add your drops to snacks and desserts with a fat source, such as smoothies, chocolate milk or latte. The disadvantage is that you then take it through the stomach. Cannabinoids readily bind to fat, but they don't like water. If you make a CBD tea, add whole milk or, for example, some coconut oil.
You can also apply the high-quality CBD oil to the skin. Add a few drops to a vegetable oil (jojoba, almond, coconut, whatever you like) and apply to the skin. Note: do not apply the oil directly to the skin. This prevents the chlorophyll present from leaving green stains.
What is the correct dosage?
The trick is to find the right dosage. This really differs from person to person.
Your weight, tolerance, lifestyle and desired effect are all factors that play a role in this. We recommend new users a low dose of 3-5 drops in the morning and evening.
If you want to take more drops in a day, leave at least four hours between times. It takes about that long for the effect to work out. Stay on the dose for a few days before increasing it.
Keep in mind that CBD must be built up in your body. That will take a few weeks. Slowly more and more receptors respond to the CBD. Find your perfect dose yourself. You have a unique endocannabinoid system, so also an individual sweet spot.
Tips to find your personal dosage:
- Take the CBD at the same time every day. Preferably 30-60 minutes after eating. On a full stomach, your body absorbs more cannabinoids.
- Keep a journal about your CBD dosage.
- Stay on the first dose for 2-3 days and then increase slowly.
Can I use CBD oil during pregnancy or breastfeeding?
Little is known about the effect of CBD on or during pregnancy. For that reason, it is often not recommended to use CBD during pregnancy. Breastfeeding naturally contains endocannabinoids. These are of great importance for teaching the sucking reflex and developing a healthy diet. Not much is known about the possible positive or negative effects on a developing child.
If you want to use CBD for severe morning sickness or postpartum depression, consult your (homeopathic) doctor and read well. 
Can I use CBD in combination with medicines?
CBD causes a delayed breakdown of some medicines. If you take medicines for your blood pressure, do not take CBD. When in doubt about the combination of CBD and medicines, it is best to consult with your doctor or general practitioner.
Is Heal Mary CBD only for women?
No, it is not. Our mission is to offer women a self-care alternative to proactively manage the health of the mind, body and spirit.
Cannabis has been used for centuries to relieve pain and other discomforts. Queens, witches, pregnant women, brides and young girls: the plant has long been an ally of women. In the kitchen, bedroom and bathroom. We want to bring back that wellness tradition.
Many women use CBD for anxiety, the hormonal balance, menstrual cramps and to relieve symptoms that can occur during the menopause.
That's not to say that Heal Mary isn't for men. Our male consumers are happy with it. So let the men in your life also enjoy.
Shelf life
Store Heal Mary CBD in a cool, dark place, but preferably not in the refrigerator. The 5% can get viscous from that. The bottle has a shelf life of up to one year after opening. Preferably use the oil at room temperature.
How can I change my order?
Have you already placed an order, but want to add another item? Send us an email. We can not promise, but if the order has not yet been sent, we will change your order with love.
Do you also ship internationally?
We currently ship Mary CBD products to addresses in the Netherlands, Belgium and Germany. The legislation regarding hemp differs per country and we would like to keep it as transparent as possible.
When will my order be shipped?
Heal Mary is a small business. We do our best to always send your order to the post as soon as possible. Usually it works within 2-3 days. If you are in a hurry, send us an email and we will do our best for you.
My package has not arrived.
Ah, there is now a very chilly postman walking around somewhere. Too bad for you. Mail us at hallo@healmary.nl with your order number and we will make sure everything works out.
Which payment methods do you accept?
At the moment you can pay with us with iDeal. We do not offer payment afterwards.
Can I return purchased products?
Products can be returned at your own expense, provided the packaging is closed and undamaged. You can also return the product to our office, it will cost you nothing.
Do you want to sell Heal mary products in your shop? We are all in favor, the more people (re) discover the plant magic, the better. Contact us and we will let you know what is possible. 
Oudenoord 330
3515 EX Utrecht